Do you want to enjoy wearing KIMONO by yourself?
Let's learn "KITSUKE," how to wear KIMONO, in a small group with our bilingual instructors.
Hiro Kimono school starts "KITSUKE" lesson in English.
Features
You can master "KITSUKE" at eight times in two months.
At the same time, you can learn the Japanese manners and culture.
Contents
Class room: Yodoyabashi, Osaka
Class hour: 14:00 - 16:00, every Saturday except Japanese national holidays
Eight lessons in two months
Tuition fee: ¥12,000 tax excluded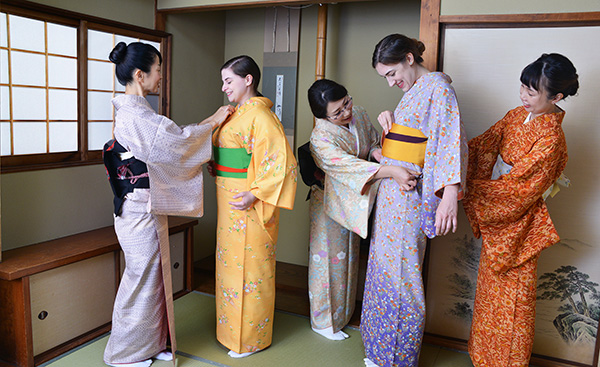 Contact information: HIRO Kimono school office
E-mail address: osk@hiro-kimono.com (in Japanese/English)
Phone: 06-6261-6235 (in Japanese only)
Access
Subway:Osaka metro "Yodoyabashi(M17)" / Keihan Railway "Yodoyabashi"
Hakuyosya bldg. 3F

History of international Kimono show
2017 San Francisco.Osaka sister and associated citis 60th anniversary.
2014 The 150th anniversary of the establishment of diplomatic relations between Switzerland and Japan. Lausanne in Switzeland.
2006 The diplomatic exchanges between Australia and Japan. Melbourne in Australia.
2004 Saint Petersburg in Russia.
1999 Hamburg in Germany.
1996 Copenhagen, in Denmark.
1992 Opera House in Sydney.
1985 Bangkok in Thailand.